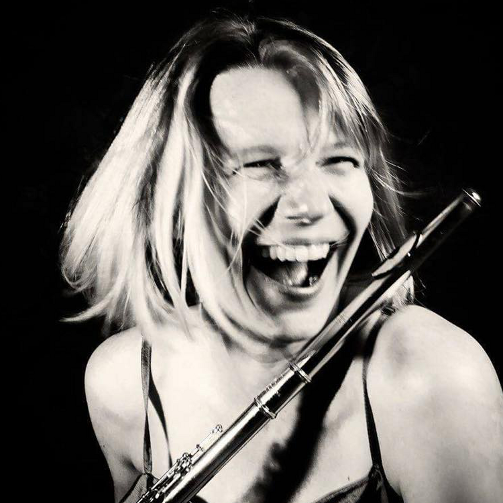 CLARE-LOUISE APPLEBY
Principal Flute
Here's a Q&A with our lead flautist Clare-Louise Appleby.
WHAT AGE DID YOU START PLAYING?
I was 7 (year 3). I wanted to play violin but my Mum said 'I'm not having a beginner violinist in the house, I've put you down for flute'. Mum was right, as always!
WHERE DID YOU STUDY AFTER SCHOOL?
I did a Bachelors then a Masters degree at The Royal Birmingham Conservatoire. My teacher was Elena Duran who was one of James Galway's assistants. I love that I have him in my flutey family tree as he was a great inspiration when I was a young learner.
DO YOU HAVE A FAVOURITE VENUE TO PLAY IN?
Either of the two theatres at the Royal Shakespeare Company in Stratford-upon-Avon. The Swan Theatre is just so beautiful & the Royal Shakespeare Theatre has had so many inspirational productions & actors on the stage it's a privilege to perform there.
DO YOU HAVE A FAVOURITE CONCERT IN YOUR CAREER SO FAR?
Yes. Well, 2. Can I say 2?!
The first was age 17 playing with the City of Leeds Youth Orchestra in the Schools Proms at the Royal Albert Hall. Getting to play Saint-Sean's 'Organ' Symphony & Pomp & Circumstance No.1 in such a World famous venue was what made me want to be a professional musician.
The second was only last summer. Lytham Festival. Come & do a proms gig they said. Hmmm, Lytham, it's a bit far, said I. It turned out to be a West End Proms with Lea Salina, Ruthie Henshall, Claire Sweeney, Marti Pellow & Jodie Prenger. I am a HUGE musical theatre fan. I was in (very wet, cold & windy) heaven!
WHAT MAKE OF INSTRUMENT DO YOU PLAY?
I play a Brannen Cooper flute with an Ian McLauchlan head joint. If you want the geeky details, the flute is solid silver, thin wall, A442, in-line G, low B but no split E.
WHEN NOT PLAYING FLUTE, WHAT ARE YOUR HOBBIES/INTERESTS?
Steam trains, card making, gin, cats & musical theatre
WHAT'S THE BEST THING ABOUT TSS?
The family feel within the orchestra. Even after the first concert there was a great camaraderie. I think this comes from everyone wanting the orchestra to succeed.
Clare-Louise was appointed as Principal Flute to The Kidderminster Festival Orchestra in 2017, now renamed The Sinfonia Stellaris.